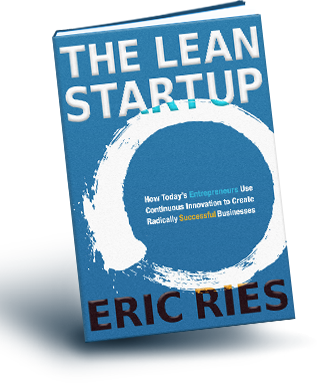 I'm a big fan of the Lean Startup movement. The book is one of the most thought-provoking I've read, and really re-writes the rules of how startup companies are (supposed) to work. I've based a lot of current projects at work on the Lean Startup method, and now a friend and I are putting together a small company based on the ideas presented. In some ways, it's evident in the way I've been blogging, at least to me.
How can the Lean Startup help bloggers? Here are a few quick tips:
1.  Start writing now
Don't delay, make excuses, or say you're not ready. You're as ready as you'll ever be. Stop hoarding and start making things happen.
2.  Get out of the building (or out of your writing app)
Once you've taken action and written something, send it off and see what people have to say about it. Don't get too happy or too sad, there will be people who love it without offering criticism (parents) and others who just try and pull you down without any encouragement.
Be steady, ask what people want to read about, mash it up with what you LOVE writing about, and produce. Keep promoting too, and create connections. Keeping your head in the sand and simply churning out content won't cut it anymore either.
3.  Measure & learn rapidly
Plug in Google Analytics, and spend a some time learning how it works, and how it can help you. Narrow your traffic to referral sources, and put energy in to the ones that pay off for you. If you spend all your time on Facebook, but Twitter is sending you traffic, learn from it!
Also keep track of when you post, and notice when you get a big referral, e.g., 99u was kind to tweet one of my posts, and it resulted in my biggest traffic day ever.
Takeaways? Pitch a guest post to 99u – research to see if any other bloggers RT'd or favorited, and pitch them – funnel more promotion to Twitter.
10 More Lessons from the Lean Startup
My favorite place to work on the road is with the good people at CoWork Jax. I'm guest posting for them today, and would be honored if you check it out. Click here to read.
If you've landed at my blog from CoWork, welcome! I'm really grateful you clicked through.
The best thing to do is Start, but you can also check out the info below. Thanks for coming by!
Important Posts
If you enjoy my writing, sign up for email updates so you won't miss any. I normally post 2 times per week. I will also send you my new workbook, Choose What You Love, along with 10 Post Frameworks to Kick-Start Your Blog
Click here to learn more about me and my journey as a writer.
Follow @mattragland on Twitter
Thanks again for reading, and let's decide what really matters, then pursue it!
Everything I Know
I write about developing your best self, regularly delivered on Friday