2015 was an interesting year. I faced new challenges, opportunities, and relationships in huge ways. My wife and I welcomed our first child to the world, I changed jobs 3 times, and much more.
If you want the brief version of my year in review, I used the fantastic app MyYear.co to share it! https://myyear.co/@mattragland/2015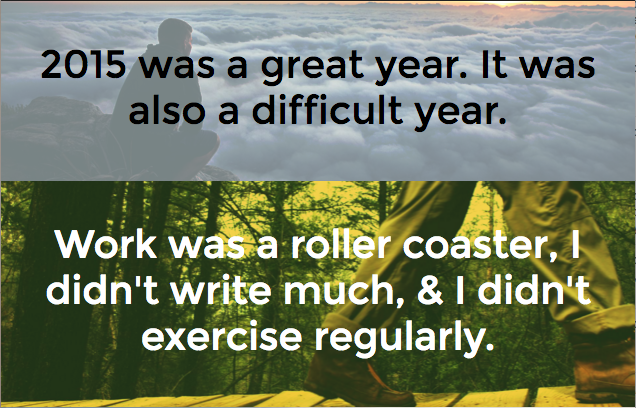 Biggest Life Change: We had a baby
Wow. It's the greatest, craziest, most invasive, cutest thing ever to happen to me. Canaan Paul Ragland was born May 22nd, and life will never be the same.
Most Surprising Creative Development: Sketchnotes
I've been sketching for a while, whether talks I heard at conferences, sermons, or my own ideas. In 2015 I expanded in scope and volume, and my influence grew with it. I created notes for Noah Kagan, Jeff Goins, Buffer, Tim Ferriss, and Derek Sivers, and many others.
Sketchnotes also helped get me in the door for interviews with Noah at SumoMe and Nathan Barry at ConvertKit. ConvertKit ended being the better fit, and now part of my work is illustrating ideas on the marketing blog. More on that below.
Best New Habit: Meditation
I had practiced on and off for a long time (like most people who want to start), but hadn't found the will or way to make it stick. After hearing 90% of the guests on Tim Ferriss' podcast reference a meditation practice as one of the most important things they do, I decided to give it a concentrated effort and make time.
I average 3-4 days a week now, and want to every day. I'm using the Headspace app for guided practice, and that's been the best way for me to develop the habit. You can get a free 10 pack of mediatations to try it out by going to https://bnc.lt/CTGd/LXp9qb1FRp.
Lost Habit: Writing
For most of the past 4 years, I called myself a writer. I had a solid output, 500 words a day average. That's nowhere near pro, but it's not even close to what I did in 2015.
I don't think I'll even go back and count the words rike I did in the past, though it wouldn't take much time to do so. I lost my writing habit in 2015 for a number of reasons, but none of them mattered.
I didn't write because I didn't write, and it's something that is going to change in 2016.
Where I Traveled
Asheville: Twice to visit family and enjoy the mountains. We lived here from 2009-2013 and love it.
Jacksonville: Visited family and neices' first birthday in October. We have big, tight family and we enjoy getting together.
Orlando: Golf weekend, aka Bachelor party.
Atlanta: SEC football championship game, watched my Gators get stomped by Alabama.
Best Work Lesson
Be upfront with your skills. In July I was contacted by Noah Kagan about doing webinars, workshops, and videos marketing for SumoMe. I was really only good at doing one of those things (video marketing), but man did I sell the other two.
I did this thinking I would have time to grow and figure it out, but after working with the SumoMe team for a few weeks, it was clear they needed someone further along with webinars than me.
I continued to create videos for a couple more months, but ultimately it was best to move forward. When I interviewed with Nathan Barry for a similar role with ConvertKit, I was upfront and said "I'm not a ready-to-go webinar guy".
I got the job.
How I Moved
2015 may have been the least active year I've ever had. Past years included ultramarathons, crossfit, and mudruns, so 2015 was pretty lame. The only steady exercise streak I had was March-May when I was at Climb Nashville 3-4 times a week.
Movement is really important to me, and it's something that I'm making a priority in 2016 again. I have a Spartan Race lined up, and also want to do the Stumpjump Trail Race in October.
Out of the Blue Moment
Jeff Goins content manager contacted me one day and asked if I wanted to be on a Blab interview with Jeff.
I was super-pumped and super-scared at the same time.
Jeff has a great audience (a Tribe, if you will), so I know people were going to show up for this. I was nervous of locking up, rambling, and showing poorly. But my friend KC encouraged me, and I went on the Blab.
It went great. We talked about the power of relationships and building your network. Jeff is a great interviewer, which helps, and brought out to me many of the things I've done to connect with him and other influencers in the blogging world.
If you'd like to watch the recording, click here.
If you would like to get my best tips for connecting with influencers, click here! I'll send them to you when I'm finished.
Best Conference
The day after I moved on from SumoMe, I went to Tribe Conference. A big part of me didn't want to go, I know people would ask me about Sumo and I didn't have the energy to talk about it.
Here's my big lesson from the blab (above) and the conference. You have to show up. Move past your fears and show up. Because in those moments you will grow past your fears.
Tribe was the best bang-for-your-buck conference I've ever been a part of. The speakers, community, energy, and content were all on point, and at a great price.
Will you join me in 2016?
Improvements
There's always a lot I want to work on after a year. I already talked about my writing and exercise habits, but resolutions like that are easy to point to.
A personal goal for me is to do things now vs later. If a task can be done in less than 5 minutes, do it now. If it takes a little longer, wait for a break and do it then. I want to make tasks a today activity and not a someday activity.
The danger is that I'll constantley distract myself with 5 minute chores (not ideal) as a form of procrastination. So here's my trick, partially stolen from Sean McCabe.
If I'm working and something pops in to my head, I write it down on the whiteboard, or my pocket notebook. Then it's done and out of my head until the next opportunitny.
Books Read or Listened to
Mastery

Art of Work

Man's Search for Meaning

Ready Player One

Silo Series (3 books)

The Dip

Zero to One

Essentialism

The Innovators

Benjamin Franklin: An American Life

American Sniper

Choose Yourself

The Martian

Copywriter's Crib Sheet

This Book will Teach You How to Write Better

Strengths Finder

The Art of Asking

Wizard and Glass

The Eyes of the Dragon

The Great Hunt

The Shadow Rising
I enjoy reading, so none of these were a drag for me. I'll say the ones I enjoyed the most were Essentialism, Man's Search for Meaning, Mastery, The Martian, and Ready Player One. I didn't really dig in to the writing books, Art of Asking wasn't what I was expecitng, but still good, and American Sniper was gripping.
Podcasts
Tim Ferriss Show

Fizzle Show

SeanWes Podcast

Startup Podcast

Portfolio Life with Jeff Goins

Hardcore History

Common Sense

The Moment with Brian Koppleman

Radiolab

Reply All
I listened to several more, but these were heavy on rotation. I rarely missed an episode of Tim Ferriss, Fizzle, or SeanWes. All three of these shows had a big impact on my work and life in 2015, and I owe a huge debt ot them.
I need to create a running list of things I've done as a result of Tim's show, but here's a quick rundown.
Courses & Workshops
Create Awesome Online Courses: I really liked this course and DSG does a great job putting it together, but I haven't been able to implement the tactics yet in a finiancially meaningful way.
Double Your Freelancing Rate: Brennan's course is great and a must-have for anyone freelancing. It's packed with great tips, tactics, and interviews that will help you make more money. The value based pricing section itself will do this. I found the legal templates invalubale as well when I was pitching bigger clients.
Authority: Nathan's ebook/course was great, he lays out a useful framework for self-publishing books in a smrt way. I'm going to implement the techniques for a project I'll be tackling the second half of the year.
Goals for 2016
Be an awesome husband and father

Help ConvertKit grow to $500k MRR in 2016

Write 500 words per day

Create a sketchnote every week

Complete a Spartan Race

PR in the StumpJump race (31 miles)

Make $1k in personal product sales

Grow the my email list to 5k subscribers (currently 500)
Thanks for sticking with me, I have a lot of great things planned for 2016 and I'm happy you'll be around to experience them with me.