This is my 3rd year of writing an end of year story, and it's something I look forward to each December. History was my favorite subject in school, and I've always believed that understanding what's happened in the past gives me a better map for navigating the future.
I normally break these into equal parts work and life, but for a little twist this year I'm following Justin Jackson's lead by focusing on the hits and misses from all parts of life.
;tldr
If you just want to take a quick glance at the things that happened for me in 2017, here's the list.
Hits
Better health through 7 hours of sleep and regular exercise

Not working after 7:00 pm, waking up at 5:00 am
Starting a YouTube channel
Leading User Onboarding at ConvertKit
Misses
Selling my ideas

Not championing User Onboarding at ConvertKit
Defining my niche
Focusing on sketchnotes
Let's begin!
The Hits
A better focus on health
I was in a rough place at the end of 2016. I wasn't sleeping or exercising enough, I was irritable, and I thought I was either going to get fired from ConvertKit or quit due to burnout. I was also in a cycle of getting sick every couple of months, which had never happened to me before.
I didn't really pull out of it until March, and it started with focusing on exercise first. I've written this before, but fitness is a cornerstone habit for me. It's the trigger that sets off a successful day. When I'm moving, I want to eat better, and I'm also tired at the end of the day. I feel better about myself and do better work. It's the domino that starts knocking others over.
I redlined for most of 2016, and was paying for it. 2017 was a much better year for personal and mental health, and movement plus sleep was a big reason why.
No work after 7:00 pm, wake up at 5:00 am
For most of my life I've worked late, getting an extra hour or so in after dinner. I always felt like there was something else to do, either with ConvertKit or on my own side hustles. I changed that in 2017 for two reasons. First, when I worked later I wasn't spending as much time with my wife and son, and that was taking a toll that I could not recover form.
Second was that if I was working late, there was no chance I was going to wake up early. Which leads to the second part, I started waking up much earlier. I'll say this loud and clear.
The key to waking up easy is to go to bed early. The key to going to bed early is to stop working and allow your mind to cycle down.
I totally get all the reasons to hustle on your own projects after work. For me, that was time I needed to spend with family. Even once my wife went to bed, it's better for me just to go to bed then and wake up at 5:00 am to hustle. Everything has been better since I made those changes. Not easy, but better.
Finding my voice on a YouTube channel
This year,
I will publish 80 videos to my channel
! That's nuts to me, since I've never before created over 50 pieces of content in a year, and video should be the hardest! In February, I decided to challenge myself with daily vlogging, and ended up creating 30 days of videos.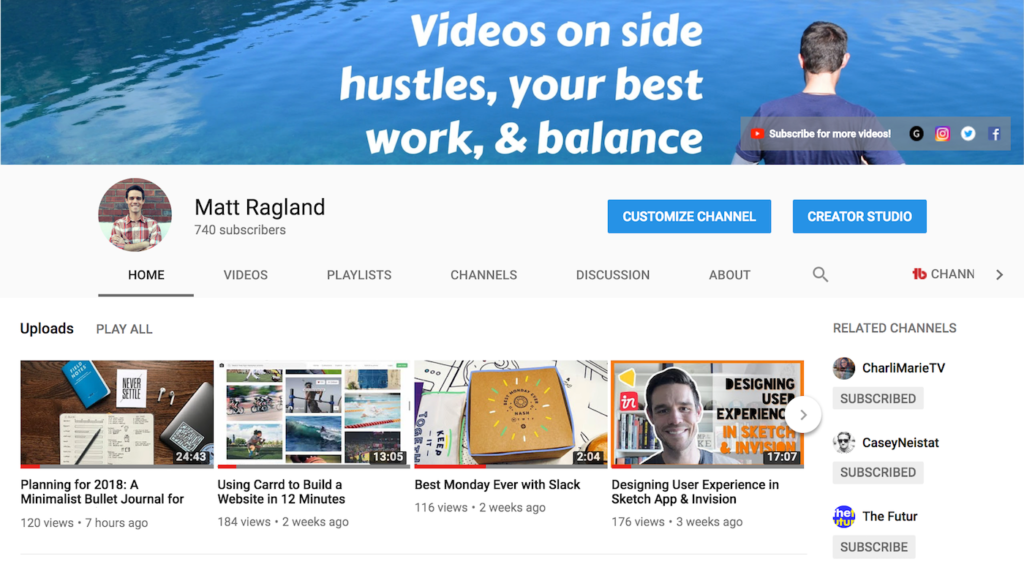 I kept going too, creating videos about sketchnotes, side hustles, working remotely, user onboarding, and what was happening in life. I started the year with 0 subscribers, and will end with about 750, a great start! Viewers watched my content for 730 hours this year, which is really cool.
I started the channel to challenge myself in a new medium, but kept shipping because it worked for my personality and creative style. I never created this much content in a year before. What I realized is most people have a type of content they can be great at and feel natural creating. I found that this year with video. I enjoy writing, I've hosted a podcast, but I always struggle with consistency and topics. With vlogging and video I don't find that as much and I oddly enjoy editing (most of the time).
Goals for 2018 with the channel are to hit 1,000 then 5,000 subscribers, and re-distribute the content better in written and audio channels as well. The ideas shouldn't stay on just one channel, just need to give them more flavor and distinction when cross-promoting to writing and audio.
Leading User Onboarding at ConvertKit
As I mentioned above, the year did not start well at ConvertKit. I worked most of the holidays, got sick, and felt like things were slipping away. I felt over my head and that everyone was going to figure that out one day.
User onboarding is something that I get really excited about that, and that energy carried the day in the end. I like to craft the first experience for a customer, from the initial pricing page, account creation, emails, and in-app experience. We also had great results from sending personalized welcome videos to nearly 5000 customers this year.
It's been the most fun I've had working on a project at ConvertKit, and it's only improving. After months of testing, validating ideas, and conducting user interviews (using JTBD framework), we're making meaningful progress on changing the in-app experience for our customers.
Misses
Selling my ideas
This is something I could have done better in 2017, and a skill I'm working to hone in 2018. Selling ideas and being able to defend their worth is a critical skill. Both practices go hand in hand, giving the idea life and keeping it alive in the face of pushback. If I believe in it enough, I need to keep tweaking the idea until it's time has come, or I finally decide to move on.
Before the idea is pitched, give it a definition, a shape and an outcome. Don't just say "I think we should do X", but take the time to give X a little clarity and depth. As a start, answering these questions helps:
Is there supporting proof from customers?

How will this solve a problem for customers?
What is the outcome for completion?
Is there a prototype we can build to test the idea?
Which leads me to…
Not championing User Onboarding
We are now working on in-app onboarding, but I didn't champion the idea throughout 2017. Everything I have done for it the past two months I could have started earlier, but kept plodding along with the basics.
It's not that I did anything wrong, but I didn't do anything special either. Maybe in-app still wouldn't have started until Q4, but I could have banged the drum for it a lot louder with better evidence to back me up. I could have answered all of the questions listed above, and made a couple of prototypes to share with the product team. I could have run a couple tests to measure the results. I didn't in 2017, but I will in 2018.
Defining my niche
Back to the vlog, I'll just term this a partial miss because it's a double-edged sword for me. When I spend a lot of time trying to define my niche and create focused content, I don't create as much. That's why the first half of the year contained 70% of my videos.
However, I'm a proponent of having a niche to build on. Like I've written before, you need to get one fire going before you can use it to start another. Now that I've established my channel and voice, I need to refine the message in 2018 and be disciplined about a balance of content and consistency.
On the channel, the videos that work best for me are on sketchnotes, productivity planning + execution, and side hustles. All of which are related for me. Sketchnote creation is my side hustle, and I need to plan properly to get things done. So I can effectively share all of that without diluting the message. Oh and maybe some notebook reviews thrown in.
Focusing on Sketchnotes
I wrote in 2016 that I had made a 5 year mistake with my blog by not focusing on sketchnotes. I've only made marginal improvement on that goal in the past two years, despite sketchnotes still being a primary traffic generator for me. It's also a great way to get on people's radars, including Jason Fried from my sketchnote of his talk at Industry conference.
If I could re-categorize my miss though, part of the issue for me is that I'm still searching for my niche inside of a niche. As in, how can I use sketchnotes within tech and media that's interesting to me and useful to others?
Two ideas I've been testing lately are illustrating help documents and live sketchnotes of small group workshops, like Design Sprints. Help docs can be a little confusing to start with (that's why they need a doc), but a good visual representation can go a long way to solidifying the concept for a customer.
I still have a bunch of videos and updates I need to make to my course, and need to make more time for it. What's great is the topic is resonating on YouTube also, so I can check two boxes with content here.
Finally, I have a bit of a partnership in the works that I hope will teach even more people how to sketchnote and capture ideas, more to come soon!
Goals & Practices for 2018
Presence
I have struggled with this for years. I'll be with friends or family but my mind will be in another place trying to solve a different problem. Or writing a post, or editing a video, or planning something. I don't as much obsess over past and future scenarios, but wander to other current options.
In a wonderful way, my wife brought this up to me just a couple weeks ago. I had the day off, and she had planned a "really fun day" for us because that's the best way to keep me tuned in 😬
She was right, I don't do downtime well. On days I am even "off" from work, I'd still like to work on personal projects or have a good workout. I'll wake up at 5:00am still so that I can do those things. I need to "move or make" something every day or I become restless and even irritable.
I don't think this is something I'll totally fix, it's more a feature than a glitch at this point. The workaround is to still wake up early on these days so I can have a couple hours to myself to accomplish what I need to. Then I can start the day with a clear mind and focus on the present. As long as it's a really fun day 😉
Regular writing
Putting ideas and thoughts out on paper (or pixel) is incredibly valuable. I know that, but it's not something I act on. Plus as I've talked about getting more traction with vlogging and sketchnotes, my motivation to write is diminished. I'm not as exceptional at writing as I am at the other two disciplines. However…
I also am thinking about writing in different way this month. For the entire time I've been writing online, I only treat it in the traditional "blogging" sense. Pick a niche, post weekly, write 1000 words, and so on.
In 2018 I'm just going to write, share ideas, and what I've been working on. I can still focus my niche with sketchnotes and the vlog, but writing can simply be a practice for me. I don't know if I'll publish every day, but I do need to hit publish more often than I have been. Just in the past week I've written a couple short posts and received great feedback! My sister wrote me a really sweet text about one of the posts, and I loved seeing that.
This is one of the reasons I love
Medium
too. With a blog, I do want it to be focused. A new reader should land on the site and understand what you are about in just a few seconds. If they don't, they'll leave. Medium isn't quite like that. Different ideas and topics from the same author can still gain traction and an audience. It's perfect for putting ideas in the world, and I'm going to do it more in 2018.
Project batches
Inspiration for this comes from Basecamp's
wonderful post on how they they structure work and teams
. It's a practice we follow at ConvertKit also, and I'm in the midst of one with onboarding. But I want to do the same in my own personal projects this year to accomplish some bigger goals.
The premise of the cycle is to spend six weeks on a project, and become really skilled at figuring out what can be completed in that time. My friend Shawn Blanc tested this out in 2017 after attending a Basecamp workshop (Nathan Barry went to one too) and it's
totally changed his business
. Here's what Jason Fried says in the post:
Before any project is included in a cycle, we've already figured out what we think the six week version is. We don't include planning in the cycle time — all the planning and consideration happens in the pitch. It has to happen before the work is slated to be done by a team. That way the six weeks is all implementation and execution.
I'll be testing this out myself in 2018 on an eight week cycle, six weeks of work and two weeks of planning and refinement. A few early ideas I have to focus on…
Revamping my sketchnote course with new videos and better content.

Taking a series of UX/UI design courses and tutorials and sharing my progress.
Building a web app (super quick six week version).
Helping my wife build out her content and video library for TheSimpleGym.com.
Podcast test or something around onboarding principles.
More to come while those are in flight, but it's a really good start. What I've found is that tackling a really big single goal for a year is a bit too much for me to work on. I've seen all the one word, one goal talk and research, and it totally makes sense. I just haven't been able to make that kind of commitment.
6–8 week project cycles are a great way to make progress and ship something in a timeframe that is always tangible and real. I can plan out six weeks and every week feels important, which means every day matters. Longer than that and it's easier for me to delay or procrastinate on the tasks.
Better notes & reviews
This may sound funny coming from a person who takes notes as a hobby, but I don't really take very good notes from books I'm reading, and certainly not from things I read on the internet. This has been brewing for years, and I've always admired book lists and notes from Derek Sivers and Ryan Holiday.
I've always moved from one book to the next without much thought to taking good notes, reviewing them, and truly attempting to implement the lessons I've learned in the pages. I've just told myself "I don't have time", but that's not true at all. The time is what I make it.
So the goal in 2018 is to learn more lessons from fewer books, and share those with you (perfect since I'm writing more)!
Learn UX principles
I have alluded to this several times, but I'll put a real flag in the ground for 2018 and say that I'm going to learn the essentials of great design. In many ways I'll be starting from scratch, but at the same time I have so many coworkers and friends who are world-class designers that I'll have soaked up knowledge from them.
While we've been rebuilding onboarding at ConvertKit, I've been able to dip my toe in design with Sketch and Invision (
see my vlog here
). It's some of the most fun I've had working at ConvertKit, and the process of creating something that will become a reality for thousands of customers is a great feeling. I want more of it.
I've been wireframing and sketching workflows for years, but need to actually develop the skill to move past wireframes and into designing the experience for users.
If I was to pick one thing to focus on in 2018, it would be this. There is so much to learn that it will take even more than this year, but I'm focused on the essentials right now. If you have any recommendations for people and places to learn from, let me know in the comments!
Question implied reality
This sounds so rebellious as a headline, and it's really not. I believe it needs to become standard operating procedure for many of us. Just because I think something isn't doable, or isn't my job, or is past my skill set, doesn't mean I shouldn't try if it's the right thing to do.
It's not even an issue of other people putting limits on me, but the self-imposed limits I'm putting on myself. I need to get better at creating and running small tests to effectively question the supposed reality of a situation.
For example, let's return to the miss of not championing user onboarding. The reality I had draped myself in is that it wasn't my responsibility or role to actually make something. That was for the designers and engineers. I could wireframe a couple of ideas, but the rest wasn't part of my role. There was (and is) a nugget of truth in that, but I was making it my reality. When I actually started using Sketch and Invision to create a user flow and prototype, I realized I could have done that 6 months ago.
Might it still have taken until now to revamp user onboarding? Perhaps, but I didn't question my reality enough, bang the drum for my idea, or even sell it as effectively as I could have. Lesson learned for 2018 and beyond.
Other things + people I learned and loved in 2017
Influencers
Best new voice: Jocko. Get after it.

Best books: The One Thing, Tribe of Mentors, Win Bigly, Principles, The Four.
Best podcasts: Masters of Scale, Tim Ferriss Show, Hardcore History, How I Built This
Best blogs: Sarah K Peck, Wait but Why, Mr Money Mustache
Best purchase of $100(ish): Apple Airpods
Actions & Habits
👏 Highlights 🙌
Being a part of my sister's and brother's weddings

The continued adventure of fatherhood
My first Spartan Race completed!
Meeting Seth Godin at Craft & Commerce
First Product Manager conference
Paying off $20k in debt
Two more ConvertKit retreats!
That's a wrap for the year! Thank you for the encouragement many of you give me each day and week. It means so much to me and is fuel for doing my best work and building better relationships. If you have any questions or need clarifications on anything, please ask!
Happy New Year!
Matt
Read my year in review from 2016 and 2015
Everything I Know
I write about developing your best self, regularly delivered on Friday