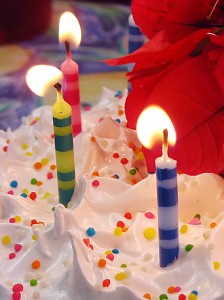 Yes, I will also do a birthday post, thank you very much. They're all the rage with bloggers, and since I'm such a crazy trend follower, I'll get on the bandwagon. Most people follow the formula of # Years = # Lessons Learned, but I honestly don't think I could generate enough meaningful lessons in my latest 20s, at least half of which weren't total bull crap. However, I can certainly let you in on a collection of what I feel is important, meaningful, and worthwhile in life.
This week, I was able to share a meal with writer Jeff Goins, and we were discussing how people change throughout their late teens and 20s, when so much happens in a person's life. College, marriage, jobs, self-sufficiency (hopefully) and a litany of other experiences continually shape us. Here's what has shaped me.
You are Enough, All by Yourself – Don't place too much of your personal meaning in jobs, sports, locations, or even people.
Books are Important – Reading opens up whole worlds, changes mindsets, and educates.
A Break from Education is OK – I now feel strongly that high school grads do not need to go to college right away, if they don't feel ready for it. However, I do feel even stronger that you should work, learn, and pay bills. But travel, do a NOLS semester, work exchange in another country, whatever moves you. Check out WorkAway for ideas.
Do Something with your Hands – As we live in an increasingly digital world, I find myself more drawn to tasks that require my hands, hammers, saws, and metal. Creating something tangible that can be felt and used is very fulfilling. I don't want to know more about computers and iPhones than building a home.
Help Others – Many of us are incredibly blessed, just to have clothing, food, and shelter on a daily basis. Look for opportunities to help those less fortunate, and not simply financially, but be on the lookout for the spiritually and emotionally poor who need your attention just as much.
Don't Focus on Yourself – Life is not about you, you are about life! Take your focus from being me-focused, to helping people solve problems and live better lives. You will find this helps your own happiness more than a selfish focus ever could.
Own Less Stuff – I have continually found I own more than I need, and have (painfully) attempted to stop purchasing certain items altogether! Consider these 2 questions: 1 – Do I have something that already serves this purpose? 2 – Will this truly better my life on a regular basis?
Be Wary of Plastic Money – We all know credit cards are dangerous source of spending, and people get caught in debt before they've realized what's happened. But I'm not talking about just credit, but debit cards as well. I realized this month that while I have continually been able to spend less money than I make, I still do not pay enough attention to what I'm buying with my debit card. I just take it out, swipe, pay, done. Take out a certain amount of cash each month, and that's it. I find it's far more difficult to be flippant about money when you see it decreasing in your wallet!
TVs are Over-rated – You'll be ok, just watch your favorite shows on Hulu or Netflix. Save money, spend your time better.
Sports are Great – That's just me, I love 'em
Experience Solitude – Get away and off the grid, for a couple of days, and allow nature to soak in to your senses and dissect what really matters to you.
Experience Community – Have a community of good friends to share life with, there may be no more important lesson I've learned.
Cook Your Own Food – It's healthier, more fulfilling, and cheaper. You'll probably be terrible at cooking at first, but like everything, you will improve.
Do Your Own Laundry – Seriously, you're bringing laundry back to your Mom?!
Pick Up after Yourself – If you're past 16, stop expecting people to pick up after you. Honestly, I didn't begin doing this with any consistency until I was past 26, but it doesn't change the lesson. If you can drive a car, you can pick up your jeans.
Move Around Every Day – Walk, run, cycle, lift, climb, jump, paddle – Whatever gets your heart pumping, moving is good for you.
Make a Difference in Your Work – Every single day, you should be able to answer this question: "How do our products/services help people in their lives?" You can probably get away with not answering this for a while, but it's not sustainable.
Don't Run from Pain – I have continually been challenged by this. I don't usually feel comfortable listening to people's pain or struggles, but I know it's worthwhile. I struggle with asking the questions which can heal, because I can be uncomfortable with the mess that follows. But if there is any lesson from the life of Jesus, it's to get in the mess. So don't run from your own pain, or the pain of other's. Go to the source, get dirty, and go from there. Just don't keep running.
Find Mentors – From my Dad, Granddads, Coaches, Bosses, Teachers, and Friends, I have been blessed with incredible mentors who have simultaneously encouraged, challenged, and rebuked me. I would be quite arrogant and selfish if not for them.
Be a Mentor – Pay it forward and be that influence on others.
Challenge Assumptions – Keep asking questions, digging deeper, and challenging why things have to be the way they are. You may find you don't have to follow the path everyone assumes you may follow, or do things the way they have always been done.
Tell Your Story – Be who you are, follow what you feel you were born to do, and do not fear being who you are. Everyone else is already taken.
Have Faith – In something. Mine is in Jesus, and I believe his message of love and mercy. I pray you simply believe in something bigger than yourself, in a higher power and life for a calling outside of yourself.
Love People – We all need to be loved, it's an embedded part of our existence. Take the first step and look at other people in a way they can be loved.
Get a Dog – Talk about being loved, a dog will love you unconditionally, regardless of what time you come home.
Plans are Important and Nearly Useless – I don't have a long calendar, tightly scheduled days, or a 5 year plan. I have discovered the value of making loose plans for the future, goals and expectations included. However, so many of my plans and assumptions for the future have proven untrue, and I realized I can never plan too accurately for the future, I can't predict or control. I have a framework of hopes and goals, but a healthy understanding that it could all fall apart, and life will be as it becomes. This mindset was not easy to come by, nor am I sane about it every day, but I now can operate with a peace about the future.
Get Ready for the Unexpected – Lives change, people fall in love, people die, babies are born, jobs lost and gained, but through it all, life is a grand, wonderful trip. I am not in control, and can be happy in little and in plenty. Many things I have expected to happen that I believed would make me happy have not happened, and events I did not plan for have filled my life in great ways. Painful experiences have cost me sleep and happiness, but round off my growing edges and teach me the world is not set up to make me happy. Whatever happens, expected or not, I will be ok.
What would you add to thoughts or lessons you have learned in your life? Did any of these trigger a memory for you? I would love to hear what your story has been. Have a great day! (Click to Tweet this post)
Everything I Know
I write about developing your best self, regularly delivered on Friday