Most people live according to a set of rules. Those rules can be explicit (the 10 commandments), or implicit (never take a man's accidental curly fry).
We create rules for ourselves in the routines and practices we go through each day. They create frameworks to help us know what to expect and reduce the decision fatigue we face each day.
In short, rules are good. We need 'em.
But most of the time rules are joyless.
Enter Johnny Karate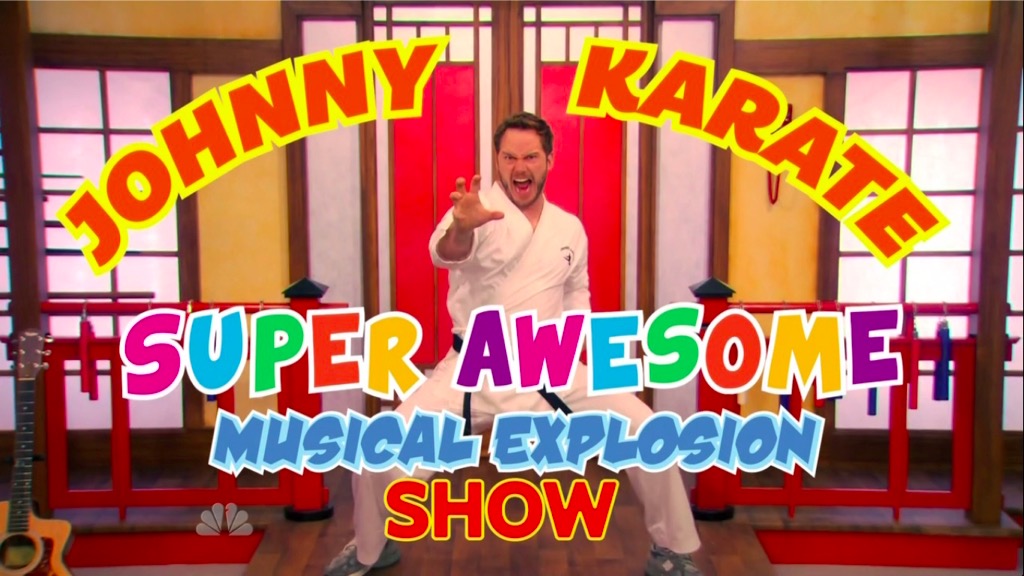 Johnny Karate is a character within a character on the sublime comedy Parks & Recreation. Chris Pratt plays Andy Dwyer on P&R, who has a kid's variety show named… Johnny Karate.
Ok, it's "The Johnny Karate Super Awesome Musical Explosion Show!"
The draw of Andy's character is he's a well-intentioned, lovable doofus. He doesn't develop intellectually over the course of 7 seasons, and it's hard to take him seriously.
Until the closing episodes of the show's run, when an entire P&R episode is solely dedicated to airing a JK episode.
It was brilliant.
Johnny gives the kids "5 Moves to Success" they must complete each episode, and encourages them to do each day. When you see them, it dawns on you these are essential practices for being happy, creative, and making a difference in the world.
Not bad for a show within a show featuring a lovable doofus.
Success Move #1 – Make Something
Every day I make something, I feel better. No matter how small or silly, if I'm making things I'm happier. It may be a video, sketch, writing a blog post, or just cooking a good dinner. Life is better when you make stuff and put it in the world.
What you can do: Make something small today, and don't judge it.
Success Move #2 – Learn Something
Learning doesn't end after school. We'd all be a little easier on ourselves (and each other) if we realized there's more to learn in the world. Learning stretches and challenges our beliefs, cultivating a growth mindset that is so important.
What you can do: Learn something new today, and keep it in your wheelhouse so discomfort isn't a limiting factor. Learn new things once you've been practicing conscious learning for a couple weeks.
Success Move #3 – Karate Chop Something
paraphrased to "Move Something"
Movement is something we're made for as humans. It makes you happier, healthier, more productive, and more creative. What's more encouraging is that it doesn't take much exercise to see these benefits!
Author and researcher Gretchen Reynolds found it takes only 20 minutes of focused exercise to feel the happiness boost kick in. This can be as easy as taking a walk around your building during lunch, or with your family after dinner!
What you can do: Go for a walk today (or karate chop something)!
Success Move #4 – Try Something New (even if it's scary for you)
God, this was my favorite. How often do we fail to try something new, because of fear? What compounds the effect is we're not supposed to be afraid, so the damage doubles down.
What Johnny Karate knows is most new things aren't as scary as we make them up to be. It's important for to know as kids, but equally important for us to remember as we get older (and prouder).
And yes, sometimes you will epically fail. But in that moment, Leslie Knope has some wise words for you.
"Every hero struggles with failure. It's the only way to become a hero, really"
Success Move #5 – Be Nice to Someone
The final success move is so simple, it's easy to ignore and brush off.
Just be nice to someone.
Not rescue the neighbor's cat or runaway dog.
Not serve at the homeless shelter.
Not go on a mission trip.
Just be nice to someone.
…not saying all the other things aren't nice, only that they are really big commitments that can be delayed…
Researchers in Great Britain found that people who made a conscious choice each day to be kind led more satisfied lives. The group who was not told to be kind (or take any other action), did not experience the same boost.
This is why it's important to realize is that kindness is a choice we make every day. It has a huge impact on our health and those around us, and makes our breaks a community.
In the context of all five success moves, Johnny shows us that we have to be able to take care of ourselves to help other people too.
Mastering the first four moves makes you open to fulfilling the fifth.
In a sense, it's like the Hero's Journey. There's struggle, development, success, learning, and completion. What most people don't realize is the true final step is return and contribute.
Being nice to someone is a part of contributing, a way of giving back what you've gained.
What you can do: Be nice to someone 🙂 and put a sticky note up to remind you…
Thanks for reading, let me know if you're karate-chopping the five moves on Twitter or in the comments!