I hope everyone had a Merry Christmas and Happy Hanukah, enjoying some good times with friends. As my friends, family, and readers know, I really love to read. Once of my first posts on the old blog was a list of books I had read in 2011, and I'm happy that I was able to commit a little more time in 2012 to reading. I finished 26 books, roughly one every 2 weeks. Some were long (Pillars of the Earth), some were short (The Freedom of Self-Forgetfulness), some were audiobooks (The Stand), and many were read on Kindle (15 of 26).
Without further ado, here's the list …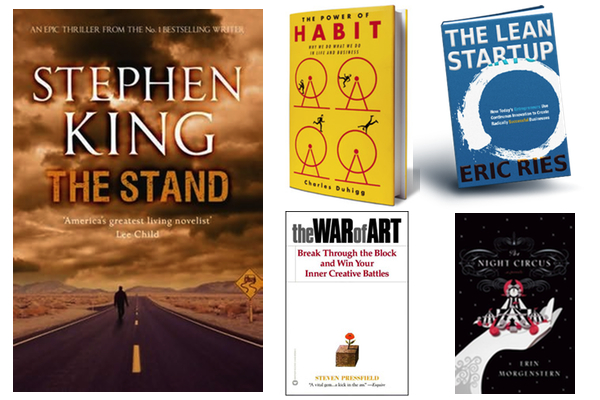 Favorite Book of 2012
The Stand – Stephen King
Favorite Book Runner-up
The War of Art – Steven Pressfield
Most Enjoyable Read
The Night Circus – Erin Morgenstern
Best Business Book
The Lean Startup – Eric Ries
Best Development Book
The Power of Habit – Charles Duhigg
The Entire List
What did you read in 2012? Any of the above books? Please share your additions and favorites in the comments!
Disclaimer: All of the links are Amazon affiliate links, which means I make a small commission at no additional cost to you. 
Everything I Know
I write about developing your best self, regularly delivered on Friday