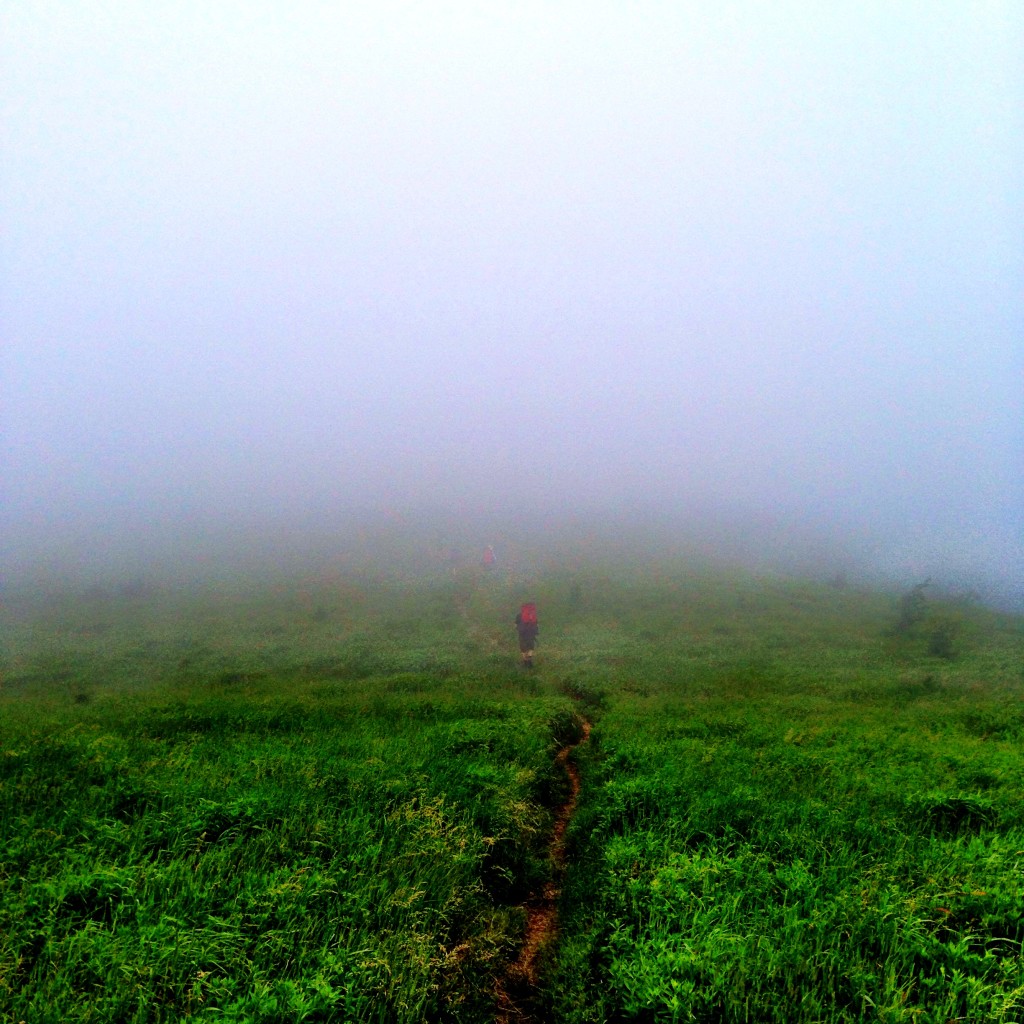 Last week I went backpacking for three days on the Appalachian Trail. In this picture, we're headed up Big Hump in the Roan Highlands of NC & TN. In front are my friends Tryon and John, and we're with five other guys. Six of us had never been on this section of trail before! Seeing impenetrable fog like this always makes me think of how little we really see of what's ahead in life.
When you're hiking, or just moving through life, it's always reassuring to know where you're going, to feel like you're in control. "You are not in control" is one of the mantras we've been teaching the Camp Rockmont Catalyst group this summer. What they don't know yet is it's much easier to repeat a mantra than practice it!
I had to do some practicing of my own these past few weeks. Morgan and I are moving around Nashville and had been frantically looking for a new place to live before our contract is up on the current one. Mash it together with the knowledge I'm going back to Rockmont on July 19th, and I've been interviewing for a couple of jobs, and life was hectic.
Honestly, most of the time it felt like I was moving down the trail with nothing but fog in front of me. I couldn't see more than the next day, the next ten feet, or the next interview. So much was unknown, and so much out of my control. All I could keep do was keep going and keep praying.
I believe a lot of life is like this too. Sometimes we get our beautiful vistas, clear paths, and refreshing swimming holes. But most of the time it's tough to see past the tangle of leaves or surrounding fog. But it doesn't mean the path is necessarily different, it simply means we have to trust in a power bigger than us, and the guidance of those around. The fog is a great part of life, and makes the clear vistas more beautiful every time.
Today we found a great little duplex between Green Hills and Lipscomb, and couldn't be happier. After surveying Craigslist and PadMapper for the better part of three weeks, I simply happened to ride by this place on my bike. The landlord never listed it online, and I just can't help but think it was there for me to ride past. In a fast-paced Nashville rental market, it stayed up for two days, and two people came by to look at the place while we were there! In the end, we wrote the checks and move in August 1st.
Though it's hard to remember when you're in the fog, know the trail is still under your feet and God is your guide, with countless Angels helping you along the way. In the fog we can re-discover our need for him. Keep walking.