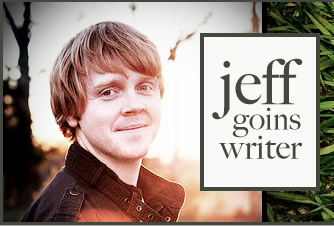 Great news everyone!
Jeff Goins, author of the book Wrecked, and the brains behind the top writing blog, Goins, Writer, has kindly approved my guest post! Jeff's writing has been instrumental in my own journey in to creativity, blogging, and the craft of writing.
You can access the article in the link below. I would greatly appreciate you reading it, sharing with a friend, or leaving a comment.
While you're on Jeff's site, I highly recommend you checking out a few other articles. Here's what I recommend:
You should also consider signing up for his email list, which in addition to updates, nets you his awesome little ebook, The Writer's Manifesto.
If you found my blog from Jeff's…
Welcome, I'm So Glad You're Here!
The best thing to do is Start, but you can also check out the info below. Thanks for coming by!
Important Posts
If you enjoy my writing, sign up for email updates so you won't miss any. I normally post 2 times per week. I will also send you my new workbook, Choose What You Love.
Click here to learn more about me and my journey as a writer.
Follow @mattragland on Twitter
Thanks again for reading, and let's decide what really matters, then pursue it!
Everything I Know
I write about developing your best self, regularly delivered on Friday