Last week, I camped with friends in Pisgah National Forest. The site was alongside a section of the Davidson River, and set a beautiful picture for our stay. While I was there, I decided to go on a short hike, alone.
As I was going down the the trail, I began looking for a place to sit and contemplate, to consider the upcoming work this summer, and simply to relax in the silence. I kept seeing good spots, but they didn't quite work. I continued to hike, beginning to hear falling water. I finally came upon a small oasis in the riverbed, with a short waterfall, and good sand to sit on. This was the place!
In our lives, we often settle for what we believe is good enough. We also quit on our dreams (writing, cooking, photography, music, etc) just before a big breakthrough. We are so close to arriving at the place where we cry out "This is the place!"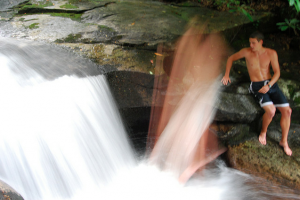 You are Almost There
During the same trip, we had a little rite of passage. There is another waterfall which has been carving a 14 foot deep shaft in to the rock for hundreds of years. The challenge is to jump in, swim to the bottom, and grab a rock, then swim back up to the top. I should say the water is frigid (50 degrees)!
When you jump in, you're cold, dark, and disoriented. You summon the courage to keep swimming down in to the darkness. Many people, especially their first jump, will go about 10 feet down, and rush back to the top, the fear in them convinced the descent will never end.
Keep Moving
The breakthrough and affirmation you're waiting for may not be too far away. Finding your place, going deeper in your practice is worth the effort. Most people will turn around just short of the waterfall, or a couple feet from the bottom of the pool.
But not you. You can go deeper. You realize this is a marathon, not a sprint. The passion you have cannot be measured in mere days, this passion is a non-negotiable part of your life! So when you are ready to settle in and be content, or turn around and swim back to the surface, take a moment, and know you have enough in the tank. You're getting closer…
Just Go a Little Deeper
Want more Sketchnotes?
Let me send you 5 quick lessons on creating your own sketchnotes.
Nice! You're already getting my sketchnote lessons and tips, thanks! Have you seen my mastery course?
Check it out here!