Last week, I wrote about beginning your day as a producer. The ability to wake up in the morning and create something is invigorating. I say this because my day can really become bogged down by consumption, especially the mindless grazing of email, analytics, and social media.
But, not all consumption is bad, in fact we need to consume other information sources to become great. The key is the source and quality of your consumption. You're likely not inspired when the first thing you do each day is check email. Sometimes I check email before I even get out of bed! This does not inspire me.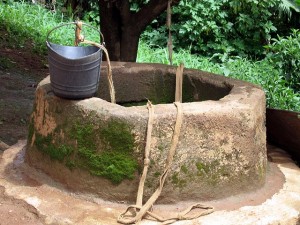 Think of Your Creativity as a Well
If all you ever do is draw water out, day after day, without refilling, you will run dry.  There needs to be a source of inspiration and new ideas which are daily replenished! If not, you will find your writing stale, and you may be re-gurgitating the same old ideas that have already been offered to people. We need to work towards a deep well, filled with constant sources of fresh inspiration and hope.
Quality of Consumption + Intentional Production = Great Work (click to tweet this)
How Do you Fill your Well?
The easiest way to figure out how to fill your well is to answer the question, How am I feeding my readers? and work backwards. For example:
Writer: Read books
Painter: Visit art museums
Athletic Trainer: Exercise your own body
Outdoor Gear Reviewer: Go backpacking
Musician: Listen to music (especially live)
If this seems to simple, it is! That's the beauty of it! We tend to overcomplicate things, when the answer can be in front of our faces, jumping up and down for attention!
I know how I feel when my well is running dry. The muse is making a tremendous ruckus in my head, saying I need to step away from the keyboard and read something, go exercise, or be with human beings. I shove her away, insisting "I don't have time for that, I need to write!" What I really need, is to get out of my own head and listen to the wisdom of others for a while.
Quick Note: Be sure the voice asking you to step away is the muse, and not the resistance, who wants to keep you from your work. Yes, it's a pain to figure out which one is which, and you'll have to decide every day for the rest of your life. The best trick is to see how far you've come in your work that day. If it's 700 words, you're probably ok. If it's 70 words, probably not. 
The next question to ask yourself is,
How Am I Inspired?
Once you answer the question, go do it! Besides reading, I feel inspired when I'm outside. I could be running, hiking, kayaking, driving, or just sitting and looking at the beauty of the mountains. I often carry a small notebook (Field Notes work great) to jot down ideas as they come, and the well begins to fill up.
Here are a few of the books and sites that have been a fresh source of ideas and inspiration.
A few other ways to fill the well
Attend a conference
Road trip!
Listen to a speaker you admire
Host a meetup, tweetup, or hangout
So, while we shouldn't put off our creative work, it's also important not to be so single-minded that we are not being inspired ourselves. As writers, artists, and creatives whose calling is to serve and inspire others, we must also be inspired.
Don't Let Your Well Run Dry
Question: Did this post resonate with you? Have you ever become so caught up in your work that you weren't being inspired yourself? How did you break free and fill your well? I would love to hear your thoughts!
Want more Sketchnotes?
Let me send you 5 quick lessons on creating your own sketchnotes.
Nice! You're already getting my sketchnote lessons and tips, thanks! Have you seen my mastery course?
Check it out here!