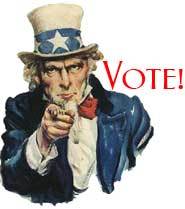 Today, America has the opportunity to exercise one of the most important rights in the world. The right to freely choose our leader. I hope you find your polling location and do just that today. Whoever your chosen candidate is, I hope we can all be respectful of each other in the upcoming 4 years, and realize that it's not all about what the President does, but what we can do in our communities to affect change.
I've gone back and forth a lot on the election, I'm a registered Republican, and have always voted that way, but do not automatically assume the candidate is the right choice. I think both candidates have good ideas, and the potential to do good whilst in office. I also think they have ideas I wouldn't choose, and are not in the country's best interest.
And I could say the same thing for every single person in America.
I think we get caught in believing the President will solve all our problems, and make everything better according to our standards. I think people look to the Government (and the President) to be the solution to our individual situation, instead of looking at how we can solve our own problems, and meet the needs of people in our own community. The President is just a man, and he's going to take good actions, questionable actions, and some bad actions. We all do the same thing every day.
What I want to choose, even more than a President, is to be a force for good within my community. I believe the Church needs to step up and be a place of refuge, comfort, and charity for those in need. How can I passively look to leaders in Washington to help people, when I am in the community and driving past people who need help every day. Honestly, it's not the Government's job to feed the hungry and comfort the hurting, it's the Church's, and we're doing a poor job of it.
There are all kinds of issues I care about, some more than others. I have not researched the candidates as well as I've liked, and today is the day. I think Mitt Romney is better for the economy, Obama is better for the environment and clean energy, and Gary Johnson is better dispersing Government influence and power.
Once again, regardless of the outcome of the election, please remember that the greatest part of being an American is your ability to affect change, regardless of your location and bank account. We can change our communities, be a force for good, and start today.