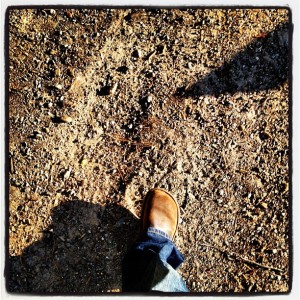 Today, I took the 3rd step.
It was a big, scary, exhilarating step, and it was also a step back.
Let me explain…
I knew eventually I would have to start practicing what I preached. Follow your passions, live with less, take the big risk, all of these pieces of advice I had been spewing for the past 4 months, I had a big step left to take.
Today I sat down with my bosses and told them about my passion for writing, missions, and travel. I told them about the road trip I wanted to take with my wife, of building an online presence, and making the jump to self-employed writer, coach, and speaker. I was re-aligning my priorities, and placing my writing and personal brand right below faith and family.
I told them everything, put my true self on the line, and waited for the hammer to fall.
They were receptive, and we talked about how I could take a pay cut in exchange for a more flexible schedule. This was what I mean by a step back. I'm still employed, but with less money and fewer day-by-day hours. I'm ok with less money, because I'm taking the next year to bet on me and the work I can produce. Maybe I'll fail, but I am going to take the plunge. I also want to travel, connect with others, attend conferences, and serve people through missions. I'll swap those opportunities for a few thousand dollars.
Yes, I'm young, with no kids and a one very understanding wife. But this wasn't an easy decision, and will certainly be leading to some tough times. My job provided a comfortable living, included housing, utilities, use of a car, 3 weeks vacation, and a fulfilling mission. A large part of me screams "Are you nuts?!"
The craziest part is that I really feel called to the work I am doing at Rockmont, and I should clarify I didn't quit. I want to continue to be a part of their mission of Male Development, I believe it's one of the most important callings in my life. But, there is another calling towards writing, missions, and service which I needed to follow. I could have continued on with Rockmont for a long time in the same position (or greater), and not scratched this itch I have. But I would not have been true to my self, and in the end that would have also been damaging to my work at Rockmont!
But this is about more than comfort, it's about following a dream.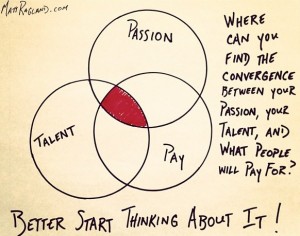 Last week I posted this image of a venn diagram, and finding the convergence between passion, talent, and pay. I've been thinking about it constantly, and honestly it's just time for to find out. I need to begin building my tower, and see how quickly it's going to fall apart. Maybe it will happen in 1 year, maybe 20, but I need to find out.
So here we go, a great load has been lifted from my shoulders, and I know I have 1 year to give this everything I have, and see what the results are. Regardless of whether or not I can make a living through blogging and speaking is still to be seen, and I may not have a full answer by September 2013. But I want to have a fuller picture of the possibilities than I do now, and that requires more of my time than I was currently devoting to the practice of writing.
I also wanted to communicate clearly with my employers, making the distinction between the work I'm going to do for me, and the work I'm going to do for Rockmont. Honestly, I may have been able to get away with both, but I wanted to be upfront about the change. If you are considering the jump to concentrating on your own business or brand, I suggest you do the same.
Already, I can feel a sense of focus settling in. Now, I've declared my intention, it's public, and the responsibility is on me to produce. When you've stripped away the comforts and the support system which makes you comfortable, it's easier to see what matters to you. This is what matters to me, and I'm going to take on the challenge.
Ah yes, you may be wondering why I said I took the 3rd step today, because it sounds a lot like the 1st step. I disagree, and here's why.
The 1st Step is to Start Writing
This step is made up of hundreds of choices to put your words down and help others through them. I took this step in late December 2011, and have been choosing to honor the practice ever since.
The 2nd Step is to Build Your Platform
This means a legitimate site, with no software handles like wordpress, blogger, or typepad. It means cultivating a community, through both social media and in-person relationships. Building your platform includes a lot more, but it's not the focus of this post.
The 3rd Step is to Declare Your Intentions to the World
This is the step I took today. It will be clarified and tweaked in the coming weeks, but I can't tell you how relieved and energized I feel! I'm going to give this work and mission all I can for the next year, and see what God makes of it. Maybe it will work, and maybe it won't, but I wasn't going to continue to sit by and think about what could be.
It's time to find out.
Want more Sketchnotes?
Let me send you 5 quick lessons on creating your own sketchnotes.
Nice! You're already getting my sketchnote lessons and tips, thanks! Have you seen my mastery course?
Check it out here!