What is Life, Prioritized?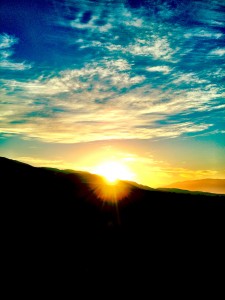 It's about the choices we make, and how those choices make us. I believe that people have all kinds of potential to do amazing things, but our comfort and fear keeps us from taking big chances. I think a lot about how we prioritize the passions and dreams in our lives, hence the name of the site.
I consider all of the things I want to do with this life; places to go, mountains to climb, and races to run. I also consider my work, family, spiritual life, and I think about how I'm going to get all of it done. How I'm going to prioritize.
I listen to the dreams people have, what is rolling around in their gut, and in MY gut. And I wonder why we don't make the decisions to follow those dreams wherever they take us.
What does that look like in my life? Here are some examples:
Dream: I want to be a writer
Choice: Stop browsing through Facebook/IMDB/Twitter/YouTube & WRITE SOMETHING
Example: Jeff Goins
Dream: I want to travel the world
Choice: Save up your money, try and get a month off or unpaid, & GO
Example: Chris Guillebeau
Dream: I want to turn my passion (fill in the blank) in to a career
Choice: Give up your big paying job, accept a smaller income stream, & go for it!
Example: Scott Dinsmore
Dream: I want to be in better shape (or break any bad habit)
Choice: Eat actual food, and exercise. Keep it small and scale up. 
Example: Leo Babauta
Dream: I want to help others
Choice: Awesome, start with the person on the street corner, your family, friends, & go from there
Example: My friends Jay, Diana, & Jeremy
Dream: I want to live a meaningful life
Choice: Give up everything which is keeping you from being present, engaged, & fully alive
Example: The Minimalists
Sound familiar?
We make these choices in our lives, and consequently those choices make us. I have been coming to grips with the choices I make having an impact on how I live, and for those around me.
For example, I want to write, and go for a run, but only have 1 hour. I can go for a 20 minute run, shower, and then write for 30 minutes. Sounds easy? But for me, I also like to eat, and not always great stuff. So I will run for an hour. No writing. So I need to eat better, in order to not have to run as long, so I can write. I can also stop obsessing over my fitness, and write more.
My choices and subsequent actions show the priorities in my life.
I want to change, I want to set boundaries on what is good and healthy in my life, in order to reach my goals. We can do this with any aspect of our lives, just by naming the goal and breaking it down to the core components. From there, you can look at what smaller steps need to be taken, what choices need to be made to move towards the goal.
That's what this site is about. Our ability to make choices that keep us on track towards our goals. Because when I realize that when I mindlessly browse Facebook or Twitter during my writing, I am getting in the way of creating content that will help others. Then it's easier to click away.
I have a little sticky-note on the side of my computer that says,
Is this helping you achieve your goals?
It's a good reminder to stay focused on what matters, on why I'm passionate about, and why I get up in the morning. I want to help others do the same. I'm excited about sharing stories about the choices we make, and creating the life we feel called to. Because I would rather be driving a 2002 4-Runner around the mountains, living within my means, so that I can write, travel, and work with people. Buying new cars and more stuff, upgrading my house, and grinding away for the big bonus does not concern me. You can keep it.
I've Made My Choice.
Want more Sketchnotes?
Let me send you 5 quick lessons on creating your own sketchnotes.
Nice! You're already getting my sketchnote lessons and tips, thanks! Have you seen my mastery course?
Check it out here!